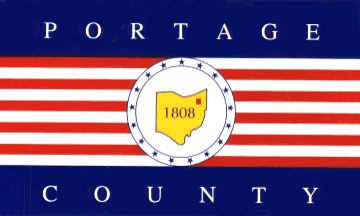 Portage County, Ohio is located about twenty-five miles west of Youngstown and fifty miles east of Cleveland and is a place where strengths are found in the diversity of the culture. Portage county is mostly rural with Ravenna being the larges and home of the County seat. The Portage County population was nearly 162,000 in  2010 census and is a part of the Akron metropolitan statistical area.
Portage County is bordered by Cuyahog and Summit counties to the west, Stark county to the south, Geauga county to the north, and both Trumbull and Mahoning counties to the east. Portage county has no major rivers but has West Branch State Park, Lake Rockwell, Mogodore Reservoir, and Berlin Lake all within its borders. West Branch State Park offers many attractions including camping, fishing, boating, and some unique bike trails through the woods.
Major highways through Portage County include Routes 224and 5, and Interstates 76 and 80 heading east and west. Prime routes 43, 44, 14 head north and south through the county. Interstates 80 is a toll road so be aware if you drive on that interstate.
The Portage County Auditor handles all property and tax information within the county. The Portage Count Recorder's office approves of all right of way information, property takes, and liens upon a property. Taxes within the county help fund the Portage County District Library that also has reading and craft programs for young children throughout the area.
Most cities within Portage County have a chamber of commerce to help grow local businesses. In their member directories you can find businesses regarding automotive services, child care professionals, licensed Portage County electricians, manufacturers, financial consultants, and much, much more. These businesses are the lifeblood of our county that keep our day-to-day lives moving and we appreciate their services to the community.