A Trip To Bainbridge Township, Ohio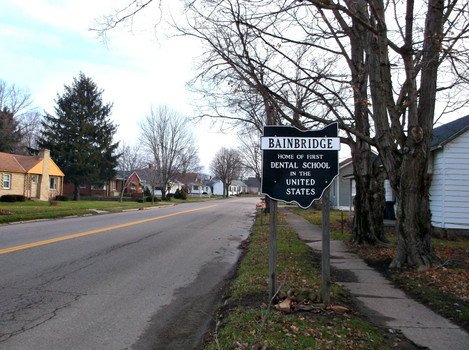 Finding Bainbridge
Bainbridge Township is located about 30 minutes southwest of Cleveland and an hour northwest of Youngstown in Geauga County, Ohio. Route 422 is the main entry and exit point to the town east and west with Route 306 heading north and south.  Bainbridge Township was established back in 1817 by Commodore William Bainbridge of the United States Navy. The townships first subdivision was created around Lake Lucerne in 1922 and is one of its largest still today.
Homes and businesses located inside Bainbridge Township do not have addresses referred to Bainbridge. The addresses are registered with Chagrin Falls as the city address but Chagrin Falls' zipcode is 44022 and Bainbridge Township is 44023. Also do not be confused as there is also a Bainbridge, Ohio, without the township, located in southern Ohio. Be sure if you are looking up information regarding Bainbridge Township, make sure you're finding the right place.
Bainbridge Government and Kenston Schools
The general operations and policies in Bainbridge Ohio are overseen by three appointed trustees and a fiscal officer. This group works with over 50 employees at various locations including the police station, the town-hall, and the road department. The Township of Bainbridge has given these three trustees an annual budget of $7 million in the year 2016.
Bainbridge Township students attend local Kenston schools for elementry, middle, and high school. The school offers all major sports including football, baseball, basketball, soccer, and golf. If sports are your extracurricular than located directly across E. Washington St. from the schools is the Geauga County Public Library.
Local food and fitness
The Bainbridge Township has every type of business including banks, grocery stores, gas stations, restaurants, florists, newspapers, health and fitness centers, real estate offices, and the list goes on. There are many excellent restaurants to choose from both fast food and sit down style. If you desire a restaurant where you can sit down and enjoy your meal then you can choose Coyote Mexican Grill & Cantina, Crumb & Spigot Tavern, Cowboy Food and Drink or Plaza Agave. If you're in the mood for something sweet head to Raised & Glazed Donuts, a local favorite donut shop. The variety of fast food restaurants include Burger King, Subway, and of course McDonald's.
After you have eaten a delicious meal at any one of the above restaurants you then may want to take some time to burn off those extra calories by attending one of the many health and fitness centers including Dynamic Fitness Solutions, Training Grounds, or Ript Fitness. You could also visit a park for a walk or go play 9 holes at local golf course Tanglewood Club.